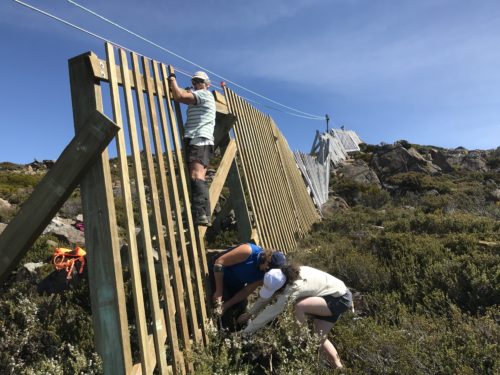 The forecast for this Saturday (10th December) is looking good, and so the STSA has decided to run another single day snow fence working bee at the Mt Mawson Ski Field. This will continue the construction of new snow fences supported by the Tasmanian Community Fund Community Action Grant, which is an important project to improve the amenity of the ski field for skiers and boarders alike.
There is plenty of work to do, but with Christmas approaching and some rain forecast for Sunday we felt a good push on with the project can be achieved in one day if we get a good turn-out on Saturday (which leaves Sunday free for other activities or recovery!) Craig Larsson has organised a big load of treated pine sleepers which are already up on the mountain ready to be carried to site, and another load of beams and slats will be delivered on Saturday.
This is a great opportunity to get involved with a community project at Southern Tasmania's only downhill ski field, and there will be plenty of jobs to do. These will include carrying timber up the hill (excellent exercise!), constructing tripods, attaching slats and weighting the snow fences with rocks so they dont blow away. Its a great feeling to be involved with constructing something worthwhile for the community, so come on up and join the volunteers. 
Meet at the Lake Dobson gate at 10:00 am, and bring some lunch. Hot drinks and snacks will be available during the day.