Its remarkable what can be achieved when a group of dedicated volunteers get together for a common purpose. That was certainly the case on Saturday 10th December when 13 STSA volunteers met up at the Mt Mawson Ski Field to tackle the next phase of building snow fences funded by the Tasmanian Community Fund Community Action Grant.
The aim of the TCF grant is to improve the resilience of the Mt Mawson Ski Field to variable snow fall by constructing snow fences on the traverse from Mawson tow to Uni tow. The site had snow fences on it previously, but they had fallen into disrepair over many years in the severe alpine climate. Great progress was made on Saturday, with a total of 4 new bays of snow fence panel being constructed, and 6 bays being fitted with slats.
As always the volunteers present all chipped in to shoulder the load (literally!) and there was a great sense of camaraderie and achievement as the new snow fences started to take shape. Everyone took turns to help with carrying the new timber up the slope, with Rudy Kloser, Peter Merhulik and Rod Stolorz heading up and down with heavy loads for much of the day. Maureen Kloser and Liz Koolhof carried up numerous slats, and Michael Potter even managed to convince some passing bushwalkers to help too!
Peter Davis, George Brettingham Moore and Rod Stolorz focussed on tripod placement and construction, while Michael Potter, Paul di Benedetto and Karen Davis did an amazing job of attaching slats over many hours of work.
At one point Tim Metcalf, Paul Vince and Craig Larsson disappeared, but they hadn't gone for coffee – instead they were tackling the difficult task of removing the clutch plate from the Mawson Tow motor for servicing. True dedication.
Still a lunch break was much appreciated, and the picnic tables outside the Mt Mawson Public Shelter were a great spot to take a breather. Then it was back onto the worksite, and a great team push through to get the final tripods erected and partially slatted before the end of the day.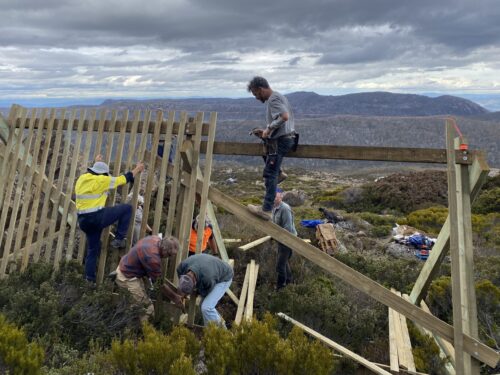 Overall it was a great days progress towards completing this year's TCF-Supported snow fence project – a big thanks to everyone who helped out.
The team plan to take a breather in January, so the next STSA working bee is scheduled for 18-19 February 2023.