Volunteers from the Mawson Ski Club will be running the ski tows this weekend. And it'll be a cracker! Snow started falling yesterday and it's still snowing. I'm on the mountain and I awoke early this morning to 30cm of fresh goodness – so a fresh tracks Saturday is in store!
Pic this morning from Oldina lodge: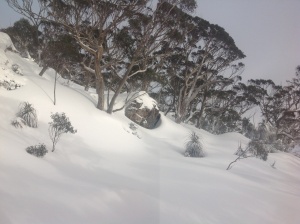 The system is forecast to clear off for a blue bird Sunday. Here's hoping! Almost a repeat of last weekend except there's a good chance we won't get any rain at the end of the snowfall, so Sunday will likely see continuing fresh snow conditions.
As always, do check the National Park road report for road status: 03 6288 1319