The STSA's second summer working bee is on this weekend 22-23 February 2020, and there is plenty for everyone to do. Over recent years we have focussed our attention on Mawson Tow, but it is now time to turn our attention to the University Tow snow-fences. An audit of the Uni tow fencing was conducted by Rod Stolorz from Wellington Outdoor and Ski Club in December and identified as many as 10 panels of snow fence which need urgent attention (repair or replacement) prior to this ski season – an sample extract from Rod's report is shown below.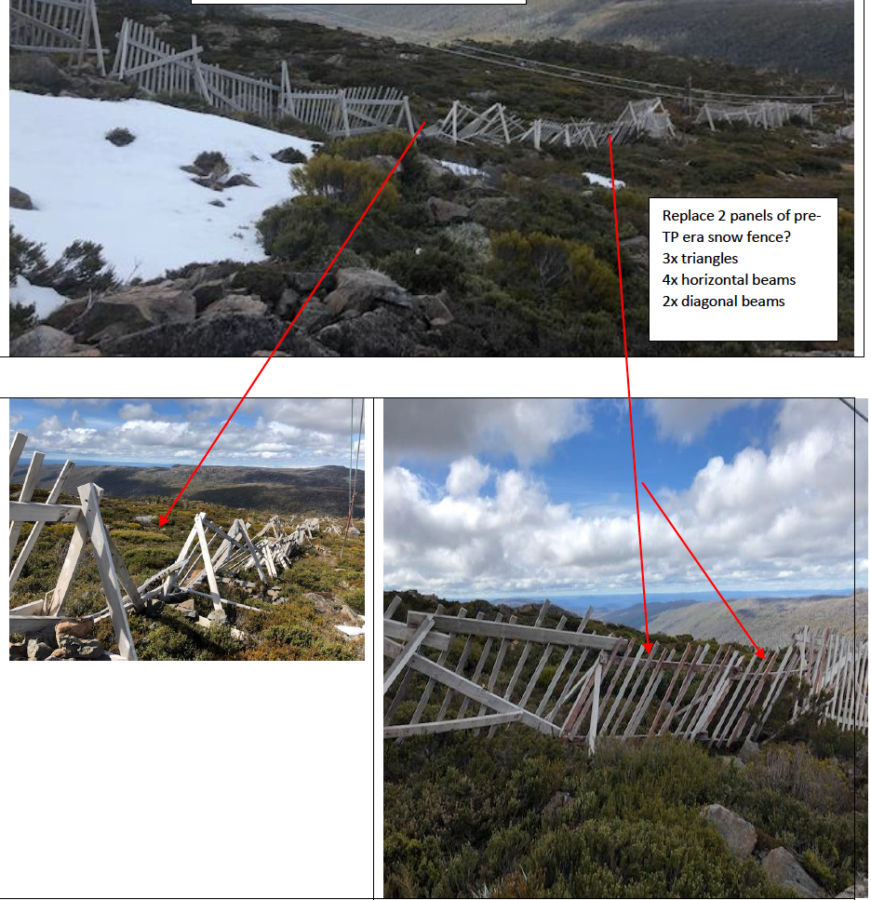 The STSA Committee has purchased treated pine sleepers and beams to use in the repair work, with Craig Larsson and Tim Metcalf heading up the mountain with the first trailer load today. George Brettingham -Moore will deliver the second trailer load of timber on Saturday morning.
The first task will be to carry all the timber beams to the locations on the Uni Tow where they can be used in the assembly of new tripods and beams – this is where the free workout comes in! It is good exercise walking up the hill carrying timber, and so we have put the call out for extra helpers with this task. Once the timber is on site there is plenty to do with demolishing/ repairing the damaged fence, and building new replacement panels.
There are also other tasks to be undertaken, including continuing the move of equipment and stores out of the old belt issue hut to the new building, and preliminary repair work assessment of the Rodway tow building.
The Mt Mawson Ski Field is only able to operate through the efforts of volunteers, and so we hope you may be able to come and assist this weekend. The weather forecast is for mild sunny conditions and light winds, so it will be a great time to be up on the mountain. The working bee activity will happen on both Saturday and Sunday – please meet at the Lake Dobson gate at 10:00 am on either (or both!) days.