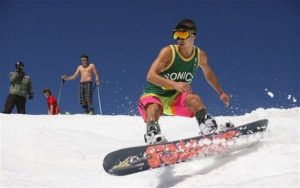 Well its been an amazing season of skiing at Mt Mawson in the Mt Field National Park, Tasmania, and there is still enough snow to get a final fix of skiing and boarding this weekend. Make the most of it – because next winter is a long way off.
Although we are now past the official end of the ski season, STSA volunteers led by Mt Mawson Ski Patrol convenor Andrew Davey have agreed to operate the Mawson ski tow again this weekend 7-8 October 2017. Come on up and enjoy the snow – the forecast is for mild conditions, and even a nice sunny day on Saturday. Better than being at the beach – and you might even be able to wear your beach gear!
This is likely to be the last weekend of skiing at Mt Mawson Ski Field for this season – and we understand that the summer construction of the new Visitors Day Shelter will start shortly. This is excellent news, and there is no doubt that the crowds who have enjoyed the Tasmanian ski experience will greatly appreciate the new facility for next season. See you on the mountain!