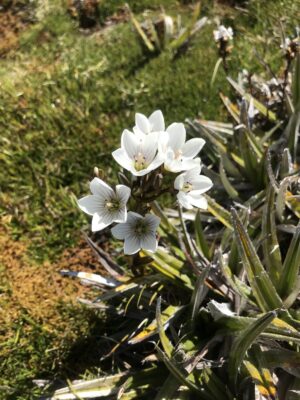 The Mt Mawson skifield is a beautiful place to be no matter what the time of year, and this weekend the first STSA summer working bee for 2022 was held in what could only be described as beach weather! The last of the scoparia were still in flower, the alpine pools on the Mawson plateau had mostly dried up, and the March flies were out in force.
A good crew of volunteers turned up to help out, and a good variety of tasks were completed despite the heat. One member even flew in from Melbourne to participate! STSA funds are very limited following two very poor ski seasons, and so the committee agreed to fund just one snow fence panel to continue the work on replacing old hardwood snow fences on the traverse from Mawson to Uni. After the usual gym workout getting the new timber to site, the team worked very efficiently to build the new frame with Peter Davis, Joe Kronawitter, Karen Davis, Katherine Davis and Craig Larsson forming the main construction party.
Some of the slats used on the new snowfence were recycled from the snow fences at the top of the Mawson run. Keen skiers will know that the snow fence at the top of Mawson has been working so well collecting snow that it has become necessary to dig out the tow line on commencement of operations most ski days, and so we have removed every second slat off that fence as an experiment to see if the snow drift will spread further down the hill.
Other work completed at the working bee included rock work by Paul Vince, construction  of impressive snow blocking covers where the tow ropes enter the Mawson tow hut by George Brettingham-Moore and Rod Stolorz, and engine maintenance by Tim Metcalf.
Overall it was a very enjoyable and productive day on the mountain, with a highlight being the cool drink at the end of the day!
In addition to the Saturday work described above Ian Stewart is making yet another trip to the mountain today to continue his work on improving the remote camera systems by upgrading the power supply to the Mawson top camera. It is a great community effort to keep the Mt Mawson Ski Field operating – thanks to all who help out.