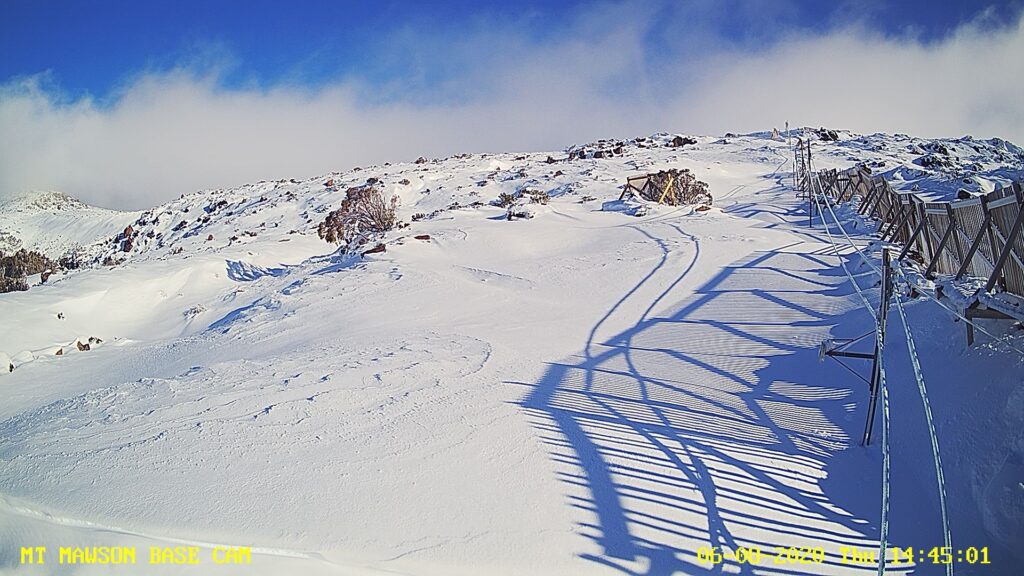 After the icy blast across Tasmania this week everyone was waiting on tenterhooks for the ice to melt off the snow camera at Mt Mawson Ski Field to give us all a good look at the slope. Just before 3 pm Thursday the image cleared, to reveal a stunning snow-covered scene.
Whilst there is a good cover for snow play a close look at the image above reveals that the top section of the slope is still showing a number of rocks and bushes. As this was the first decent fall for this Winter the snow has no base under it, with a risk of skiers hitting rocks submerged in the soft snow.
The bottom section of the slope has good cover where it has been sheltered by the snow fences, but the top section (which has larger obstacles) still needs a bit more.
As a result the Mt Mawson Ski Patrol and STSA Tow Manager have made the difficult decision to delay the opening of the ski tows until there is a bit more cover to allow skiers and boarders to descend the slope safely.
Whilst it is disappointing for keen skiers and boarders that the ski tows will not be operating this weekend, the weather forecast is good, and so it will still be spectacular up on the Mt Mawson Ski Field – a great destination for a family outing to the snow! We understand that a grader has been working on the Lake Dobson Road today in order to get the road clear for the weekend.
Thanks to the STSA Volunteers from the Hobart Walking Club and the Alpine Club of Tasmania who were ready to head up tomorrow to get the ski field ready. Let's hope we get some follow up snow to build on the current base.