Mt Mawson Ski Club (the on roster club this weekend) has advised that the tows won't be running this weekend (1st Aug) due to insufficient cover.
Mawson deployed their high tech autonomous biological snow measuring device to the mountain and Fluffy has confirmed that there's not quite enough snow yet!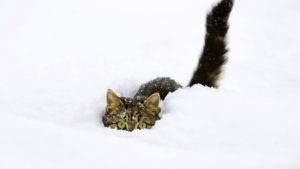 With snow falling through today and over the weekend, it was a tricky call for the guys. It often is when conditions are marginal. And of course safety and access issues are also taken into account in consultation with Ski Patrol as part of the assessment.
For those who are willing to walk some runs, then Sunday may be worth a trip up, but it will likely be in extreme conditions. Just make sure you have a suitable vehicle (with chains), dress and prepare for blizzard conditions and check with the ranger that the road is open first.
Rest assured that the STSA is primed and ready to hit the 'go' button once we have enough cover. If the snow that is forecast over the next several days eventuates, it seems likely that we will be opening on the following weekend (8th Aug), we'll keep you posted during next week. My club, Oldina, is on roster for that weekend. We have a running joke in the STSA that Oldina always gets the first weekend of the season (with all the joys of debugging the tow and systems), it looks like it may be the case again 🙂