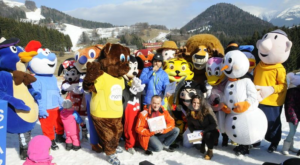 The STSA held its August meeting last night, and has confirmed that the ski tows will again be running at Mt Mawson this weekend 20-21 August. Whilst the webcams show some loss of snow with the warm weather during the week, there is once again fresh snow forecast from Friday onwards which should provide some new fresh conditions for skiing and boarding. The snow cover on the upper part of the Mawson Run and on the Uni run is still quite good, and if necessary the STSA volunteers from the Ski Club of Tasmania can load skiers from a spot above the bare spot visible on the webcams.
The STSA Committee also discussed the ongoing issues with the temporary visitor shelter provided by the Tasmanian Government (an unheated shipping container) and resolved to again follow up with Parks on the importance of a dedicated Mt Mawson Day Shelter being constructed this summer. Last weekend some wet windy weather coinciding with groups of student bushwalkers, families with young children, interstate visitors and skiers and boarders all seeking shelter at the same time meant that the shortcomings of the current facilities were very apparent. It was standing room only as visitors crammed into the shipping container to get out of the inclement weather!
The first three weekends of Season 2016 have seen a good turnout of visitors to the Mt Mawson Ski Field, and the committee discussed a number of working bee ideas for the coming season which will see further improvements to the operation of the ski field.