This may be of interest to our readers (note: charity amended 11.6.15):
Tassie's Own Outdoor Leisure Super Show 16-18th October 2015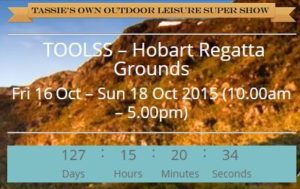 Fiona Kelly of TOOLSS is looking for interested parties to participate in this years upcoming show.
"Tassie has such an enormous multitude of leisure pursuits to choose from, many of which the general public are not even aware of. Amongst other things, I am really hoping that TOOLSS will give people an added desire to get fit and active in the great outdoors. This is an excellent opportunity to promote your association and what you do. You are welcome to sell merchandise if you like, or offer discounted memberships, free introductory sessions, promote upcoming events, etc. etc. etc. – the options are endless!
By opening up the show to ALL outdoor leisure industries (such as golfing, shooting, bike riding, horse riding, abseiling, football, soccer, running, etc. etc. etc.) a much larger cross section of society will be interested in attending the show.  Another potential audience will be supporters of the promoted charity which I am hoping to make a large contribution to – that is Compassion.  To find out all about Compassion, what they stand for and are trying to achieve, and what you can do to help make this world a better place, please visit their website: www.compassion.com.au
If you are a sub branch / club of an association, (for example many associations have various clubs throughout Tasmania), and you think "our club is too small to exhibit", please consider joining with other clubs within your association to share the costs, etc. and promote the activity of your association in general.  This is a fantastic opportunity to show how unified your organisation is and how well networked you are.
We are opening the show to the entire OUTDOOR LEISURE industry. I would expect that the majority of the exhibitors (from a space point of view) will be in the caravanning / camping / boating / fishing / 4WD'ing industries. However, from a numbers point of view, I would expect the leisure associations to be well in front!"
All information, including pricing and the exhibitor application form can be found on: www.toolss.com.au