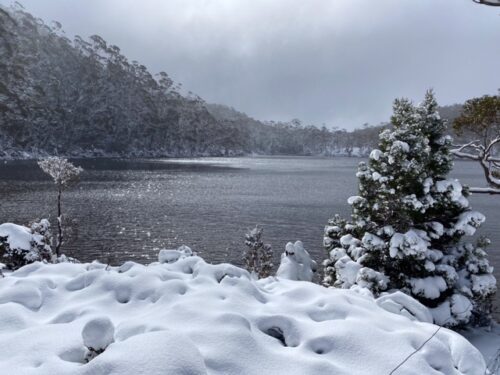 The forecast snow has started falling at Mt Mawson Ski field in Mt Field National Park, and it won't be long before the landscape is once again transformed with a beautiful white cover. It is going to be spectacular in the mountains, and there is no doubt lots of people will wish to enjoy the wintery scenery and hopefully get some downhill runs in.
We will have STSA volunteers on the mountain from today and over the weekend to enable a more detailed on-site assessment to be made, but unfortunately the warm weather of the last couple of days means that once again there is a limited base for the new snow to fall on. To be able to operate safely it is important that there are not hidden obstacles lurking in the soft snow, and usually some time is needed for the fresh snow to settle down and form a good base.
Hence at this stage the call needs to be that downhill tow operations will be on hold tomorrow (Saturday 25th September), with a Sunday start still a possibility if there is enough snow from this active cold front.
There will however be good snow cover for snow play, cross country skiing and snow boarding, and the public day shelter at Mt Mawson will be open.
Parks advise that they are working with Stornoway and State Growth on road access noting there may be periods where access is restricted to allow clearing.  Remember – drive to the conditions and dress warmly!