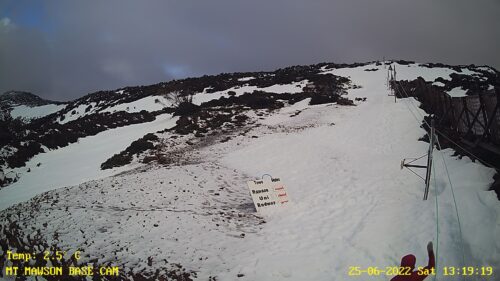 We have all been keenly watching the snow cameras at Mt Mawson Ski Field to see how well the snow pack is holding up during a spell of warmer weather, as well as monitoring the BOM website to see when the next snow will arrive. STSA volunteers from the Ski Club of Tasmania have been on the mountain getting prepared to run the tows.
This morning the Mt Mawson Ski Patrol conducted an on-slope inspection, and have made the call that the ski field will not be able to operate this weekend. This is based on the fact that whilst there are still significant snow depths in some places, the snow is soft and there is the risk of skiers encountering bushes or rocks emerging through the snow melt. Whilst this is disappointing for winter enthusiasts after the last couple of poor seasons, Ski Patrol must ensure the ski-field is safe for skiers and boarders to use.
Still it is early in the season – let's hope we get a top-up of snow soon!