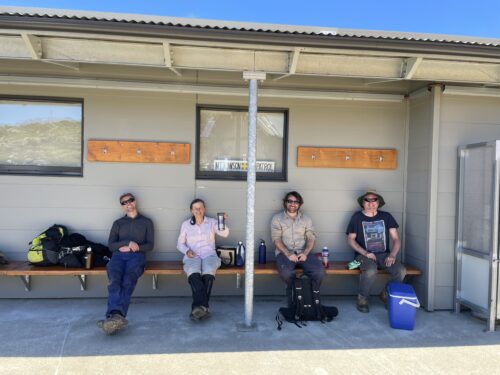 The STSA has been quietly working away over the summer making sure the Mt Mawson Ski Field is all ready to go for the Winter 2022 season. After two difficult years of Covid and no snow (meaning almost no income) it has been necessary to cut back on the work program to conserve capital. Also with Omicron on the loose we were not keen to try to manage a large turn out of people at a working bee. Nevertheless each working bee has been attended by a dozen or so keen volunteers, and good progress has been made on snow fence repairs, improvements to the tow huts and testing of Mawson tow operation.
This Saturday (26th Feb 2022) another low key working bee will be held, with Craig Larsson as the lead. Tasks planned include repairing the pulley at the top of Uni tow, repainting the barge board on the Rodway tow hut, tidying up the loading stations for the old beginners tow, and test running Uni tow. If you would like to assist, please be at the Lake Dobson carpark gate at 10:00 am on Saturday.
In other STSA news, the STSA Committee held its regular meeting this week, and paid tribute to former ski patroller Til Van de Vusse who passed away recently. Til was a great contributor to the Mt Mawson Ski Field over many decades, and was awarded life membership of the Australian Ski Patrol Association and Oldina Ski Club. Her happy smile and positive attitude will be missed by many.