We are nearing that special time of year where the beautiful Autumn days shorten towards winter, and around Anzac Day Tasmania's  deciduous beech Nothofagus gunnii reaches its full golden display. Hundreds of visitors head to the Mt Field National Park to try to capture spectacular images of fagus against the backdrop of mountains and lakes, but given the short period that the fagus changes colour this is not a straightforward exercise. A key challenge has been not knowing exactly when the fagus will be at its peak colour.
The Southern Tasmanian Ski Association has made that decision-making a little easier this year with the re-commissioning of the web cam located at the top of the Mt Mawson Ski Field. Ian Stewart, one of our skilled and intrepid volunteers has put in many hours designing, building and commissioning electronics to support the operation of the web camera in one of the most challenging alpine environments for sensitive electronic equipment – the top of a mountain exposed to gale force winds, rain and snow. One of the biggest challenges Ian has faced has been water ingress into the instrument enclosure – even though we were supposedly using one of the most rugged, sealed containers available. He has solved this (we hope!) by coming up with a completely new design for the instrument enclosure that looks suspiciously like a length of sewer pipe!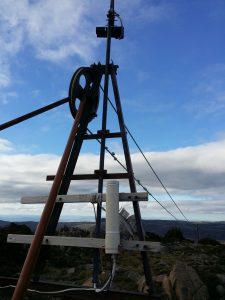 Web cam located at the very top of the Mawson Ski RunThis web camera is aimed at the Rodway Ski Tow – Tasmania's steepest and longest downhill run, but for the careful viewer at this time of year it is possible to watch the fagus changing colour along the Tarn Shelf at the base of the Rodway Range. Happy fagus hunting!