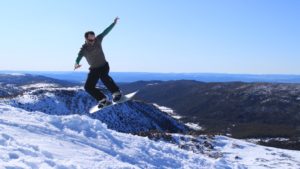 The Ski Season in Southern Tasmania kicks off this weekend 30-31 July at Mount Mawson Ski Field – so come on up and enjoy the snow. There is a good cover of fresh snow on the runs, with a bit more to come through on Friday. Volunteers from the Hobart Walking Club and The Alpine Club of Tasmania will be operating the tows from 10:00 am on Saturday and Sunday. Remember to dress warmly, and bring something to eat and drink as there is no commercial outlet on the mountain. The STSA has left the cost of day tickets at the retro price of $30 – the cheapest downhill skiing in Australia – but you will need cash as we don't have credit card facilities.
Take care on the Lake Dobson Road as there are deep culverts beside the road in a number of places. Exercise caution when moving over to let other cars past, as getting too close to the edge of the road could lead to an unwanted excursion into the ditch. Check the road status with Parks, but expect that you will need to carry (and possibly fit) snow chains.
Its worth the effort – come on up and check out the snow at Southern Tasmania's only operating ski field for a unique Tasmanian winter experience.