This year marks 100 years since the Mt Field National Park was formed, and 90 years since the Ski Club of Tasmania commenced skiing at the Twilight Tarn Hut. The STSA is still going strong, more than 50 years after the first downhill ski tows were installed at Mt Mawson Ski Field. There are a number of great activities coming up to celebrate the centenary – so come along and get involved!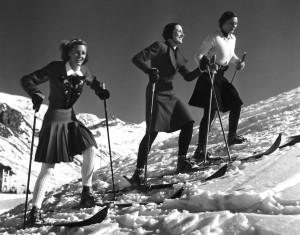 ​7 April: The Power of Parks – UTas Forum Series at Stanley Burbury Theatre, Sandy Bay.
Refreshments from 5.30 pm. Forum runs from 6 pm – 7.30 pm
Celebrating the benefits that parks and reserves provide to Tasmania's economy, society, environment and overall identity.
Join this unique opportunity to hear from a panel of internationally renowned thinkers and take part in the interactive forum. Keynote speakers include celebrated Tasmanian author Mr Richard Flanagan, Adjunct Professor University of the Sunshine Coast and Director Healthy Parks Healthy People Global Dr Bill Jackson, distinguished Professor University of Tasmania Jamie Kirkpatrick AM and General Manager of the Tasmania Parks and Wildlife Service Mr Peter Mooney. Followed by Q&A session.
Please RSVP your interest on the University of Tasmania's Events Page.
23 Saturday & 24 Sunday April: ​​Mount Field Fagus Festival – Celebrating 100 years of Tasmanian Parks

FREE entry to Mount Field National Park for this weekend's celebration! Join us for a weekend of fun and discovery. Community showcase, guided walks, shuttle bus to Lake Dobson, Aboriginal dancing, dancing and craft workshops, music, bush dancing and singing, wood chopping demonstrations, Discovery Ranger activities, Tasmanian produce, food and beverage, and lots more. The Alpine Snow Sports History Association, The Southern Tasmanian Ski Association and the Mount Mawson Ski Patrol will all be there to showcase skiing and boarding in Southern Tasmania.
Saturday 30 April: Australian Alpine and Snowsports History Association 3rd Annual Conference.
This will be the first time this national conference has been held in Tasmania, and it is being held at the Mt Field National Park. The program includes talks by two local historians: Peter MacFie will speak about "Mount Field National Park – the formative years 1910-1940"; and Bruce Cole about "Mount Mawson's Rope Tows". The conference is open to everyone with an interest in alpine history.
Conference registration cost: $20, includes lunch.
There will be a tour on Sunday 1 May to historic sites at Mount Field that includes a free lunch at Lake Dobson. There is no charge for the tour, but registration is required.